CICO® TL 1500 B
Wheel Flange Lubricant
Product benefits
wear and noise reduction
controlled thixotropic properties
high compressive strength
does not bind dust
high surface adhesion
no gumming
temperature resistance of the lubricating film from -100°C to +500°C
suitable to apply down to -40°C
low consumption
environmentally friendly, no dangerous material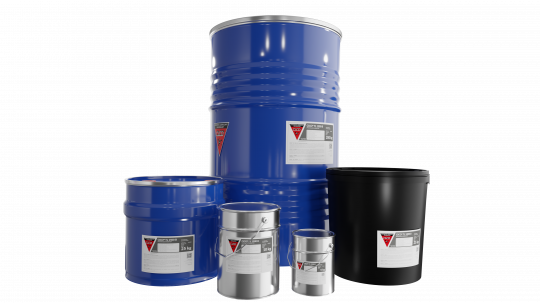 Description
CICO® TL 1500 B, wheel flange lubricant, is a combination of chemically treated solid lubricants and a solvent-free, biodegradable, organic carrier. It was developed in order to reduce the rolling and sliding friction between the wheel flange and rail flanks that occur under extreme environmental conditions. CICO® TL 1500 B eliminates small cracks. As a result, no further cracks or metal breakouts can be seen on the wheel flange and rail flanks. The strongly adhering film is characterized by good stability with a high solids content. It ensures a dry, homogeneous surface coating with only low consumption. A spinning off or damage to surrounding components is almost impossible, due to its thixotropic nature.
CICO® TL 1500 B reduces rolling resistance and wear. The braking effect is not impaired by CICO® TL 1500 B and the noise level is reduced. A high level of operational safety is guaranteed.
CICO® TL 1500 B contributes to vehicle safety and stability as well as long-term cost minimization and efficiency.
Application information
In combination with the appropriate application method, CICO® TL 1500 B forms a lubricating film that cannot be dissolved by conventional cleaning agents and adheres extremely strongly to metal surfaces, even at low dosages. A connection with rail abrasion and road dirt is avoided. The long-term separating and lubricating film prevents function-disruptive icing during winter. Wear and noise are significantly reduced.
CICO® TL 1500 B is supplied in containers of 5 kg, 10 kg, 25 kg and 200 kg. Other container sizes on request.
Technical specifications
| Substance name | CICO® TL 1500 B |
| --- | --- |
| Color | gray |
| Density (at 20°C) | 1.03 g/cm3 |
| Viscosity (Brookfield LVT; 1.5 rpm; 24°C; spindle no. 1) | 1150 mPa.s |
| Kinematic viscosity (ISO 3104; at 24°C) | 324 mm2/s |
| NLGI class (DIN 51818) | 000 |
| Application temperature | -40°C to +90°C |
| Temperature range of lubrication | -100°C to +500°C |
| Flashpoint | 255°C |
| Ignition point | >350°C |
| Thermal decomposition | >350°C |
| Dangerous reactions | none |
| Biodegradable (CEC-L-33-A-94) | >90% (base oil) |
| Water hazard class (WGK) | 1 |
| Disposal (AVV) | 130207 |
| Transport | no dangerous goods |
| Storage stability | at least 2 years |