CICO® TGM 5000
Fully Synthetic Lubricant for Bearings and Gears
Product benefits
lubrication and conservation of moving parts, especially bearings and gears
high temperature resistant up to +250°C
high compressive strength
good penetration
exceptionally good anti-corrosion
forms pore-deep dry sliding film
displaces moisture
does not attract dust and dirt
cleans and loosens seized parts
non-toxic
environmentally friendly, no dangerous goods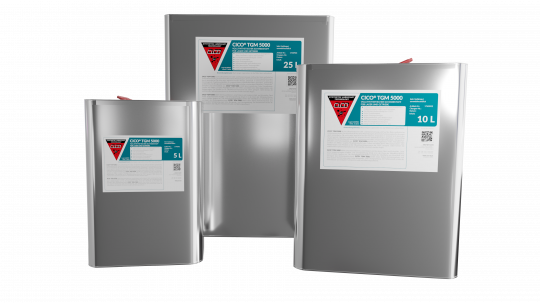 Description
CICO® TGM 5000 is a fully synthetic lubricating and conserving agent based on synthetic hydrocarbons. The lubricant was developed for applications whose high lubrication requirements can no longer be met by mineral oils. It is characterized by excellent oxidation stability, excellent cold flow behavior (wax-free, lubricious practically up to the pour point), special lubricating properties, favorable viscosity/ temperature behavior and shear stability. CICO® TGM 5000 does not contain any organic fats, petroleum derivatives, additions of silicone, graphite, molybdenum disulfide or Teflon and does not form any aging products or deposits. The product is suitable for permanent oil bath temperatures of up to 150°C. The peak temperatures occurring in the lubricating film can be considerably higher.
CICO® TGM 5000 forms an extremely thin, invisible and dry sliding and protective film. Thanks to its excellent capillary and solvent action, it penetrates into the pores of the metal surface and into the finest gaps.
The high pressure resistance protects the surface from wear and tear and reduces frictional resistance. CICO® TGM 5000 offers a high level of corrosion protection and clean lubrication as well as a high cleaning and dissolving effect. The lubricant increases the service life and reduces lubrication intervals and maintenance costs.
Application information
CICO® TGM 5000 is used for bearings and gears with the highest lubrication requirements. A thin film is already effective. At the same time, CICO® TGM 5000 is compatible with commercially available seals (e.g. made of NBR, ACM, FKM, VMQ) and allows the same maintenance devices (filters, separators, etc.) to be used as with mineral oils. The product can be mixed with mineral oils. The residual mineral oil content should not exceed 5% in order to maintain the properties of the lubricant. Due to the wide range of applications and its high penetration effect, CICO® TGM 5000 can also be used as a lubricating and conserving agent in the areas surrounding the gear unit. CICO® TGM 5000 is non-toxic and does not develop an unpleasant odor.
CICO® TGM 5000 is supplied in 5 l, 10 l and 25 l containers. Other container sizes on request.
Technical specifications
| Substance name | CICO® TGM 5000 |
| --- | --- |
| Smell | mild |
| Physical state | liquid |
| Density (at 20°C) | 0.85 g/cm3 |
| | |
| Pour point | -38°C |
| Flashpoint | 218°C |
| Thermal decomposition | >300°C |
| Dangerous reactions | none |
| PBT and vPvB criteria (REACH regulation, Annex XIII) | not fulfilled (not persistent, not bioaccumulative, non-toxic) |
| Water hazard class (WGK) | 1 |
| Disposal (AVV) | 130206 |
| Transport | no dangerous goods |
| Storage stability | at least 2 years |