CICO® TGM 2000 K
Synthetic Lubricating and Conserving Agent
Product benefits
lubrication and conservation of moving parts in a highly corrosive atmosphere
good penetration and high compressive strength
exceptionally good anti-corrosion
cleans and loosens oxidized and gummed parts
penetrates and loosens seized elements (bolts, screws, brake shoes, spindles, etc.)
works in the temperature range from -70°C to +230°C
displaces moisture
antistatic, dust and dirt repellent
prevents oxidation at electrical contact points
improves conductivity
environmentally friendly, no dangerous material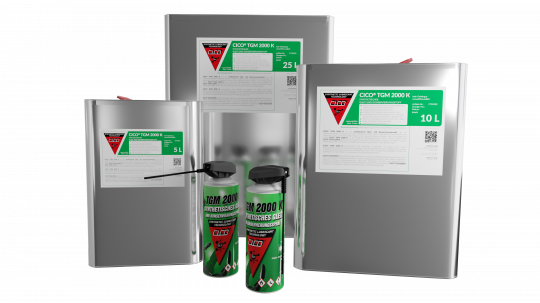 Description
CICO® TGM 2000 K is a special synthetic lubricating and conserving agent that was developed using special additive technology. It penetrates readily into small pores and crevices and forms a thin lubricating and protecting film. CICO® TGM 2000 K does not contain any organic fats, petroleum derivatives, additions of silicone, graphite, molybdenum disulfide or Teflon. It does not form any aging products or deposits.
CICO® TGM 2000 K displaces moisture. It provides a high level of corrosion protection and offers a high cleaning effect. It enables clean lubrication and conservation of moving parts. CICO® TGM 2000 K has unusually high pressure resistance and protects the surface from wear and tear. It reduces frictional resistance.
CICO® TGM 2000 K is used in assembly and service (e.g. chains and steel cables) as well as in precision and fine mechanics applications.
Thanks to the high penetration effect, even elements that are difficult to access (locks, counter mechanisms, hinges, guides, cutting and measuring tools, electronic components, etc.) can be optimally serviced with the synthetic lubricant. CICO® TGM 2000 K increases the service life, reduces lubrication intervals and maintenance costs.
Application information
CICO® TGM 2000 K is a liquid with a high penetration effect, therefore very easy to apply and effective even at low dosages. For areas that are particularly difficult to access, CICO® TGM 2000 K Spray is recommended. The optional spray lance extension is used for targeted use.
CICO® TGM 2000 K is supplied in 5 l, 10 l and 25 l containers and as a spray (400 ml). Other container sizes on request.
Attention
The spray can is under pressure. It must be kept out of the hands of children and protected from heat and damage. Do not spray against open flames or incandescent objects. Use only in well-ventilated areas. Avoid inhalation of the aerosol and protect the eyes. Only dispose completely empty spray cans.
Technical specifications
Substance name
CICO® TGM 2000 K
Smell
mild
Physical state
liquid
Density (at 20°C)
0.84 g/cm3
Pour point
-37°C
Flashpoint
>210°C
Thermal decomposition
>300°C
Dangerous reactions
none
PBT and vPvB criteria (REACH regulation, Annex XIII)
not fulfilled
(not persistent, not bioaccumulative, non-toxic)
Water hazard class (WGK)
1
Disposal (AVV)
130206
Transport
no dangerous goods
Storage stability
at least 2 years
---
Substance name
CICO® TGM 2000 K Spray
Form
aerosol, active ingredient: fluid
Color
colorless
Smell
characteristic
Ignition point
does not apply to aerosols
Solvent content, VOC (EU)
91%
Auto-ignition temperature
does not apply to aerosols
Explosive properties
not explosive,
formation of explosive vapour/air mixtures is possible
Dangerous reactions
none
Solubility in water
not solvable
Disposal (AVV)
150104 (metal packaging)
150110 (may contain residues of hazardous substances)
Transport
UN1950 (pressurized gas packages)
Disposal (AVV)
at least 2 years