CICO® TGM 2000 B
Synthetic Universal Lubricating and Conserving Agent, Suitable for Low Temperatures
Product benefits
lubrication and conservation also in the low temperature range (-45°C to +230°C)
particularly suitable for moving parts in a highly corrosive atmosphere
very good penetration
cleans the surface, dissolves rust
dissolves gummed parts
prevents icing
moisture-displacing
dust and dirt repellent
antistatic
environmentally friendly, no dangerous goods
reduces maintenance effort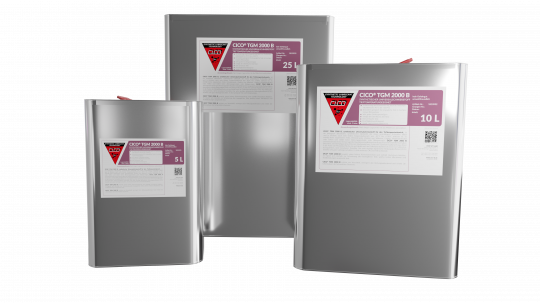 Description
CICO® TGM 2000 B, synthetic universal lubricating and conserving agent for the low temperature range, is a biodegradable, synthetic lubricant that forms an invisible protective film and is effective in a wide, even very low temperature range from -45°C to +230°C. It does not contain any organic fats, petroleum derivatives, additions of silicone, graphite, molybdenum disulfide or Teflon and does not form any aging products or deposits. CICO® TGM 2000 B is characterized by excellent oxidation stability and excellent cold flow behavior (wax-free, lubricious practically up to the pour point). It has an optimal capillary effect, penetrates into the pores of the metal surface and forms a firmly adhering, transparent, non-measurable separating film even at low temperatures. The very low dynamic coefficient of friction (0.05) results in very good sliding properties. It dissolves gummed oils and grease residues. CICO® TGM 2000 B provides a high level of corrosion protection and contains high-pressure additives. It is therefore suitable for the lubrication of all moving parts that are exposed to high vibrations and shock loads.
CICO® TGM 2000 B protects against wear, reduces frictional resistance and increases the service life of the treated elements.
Application information
CICO® TGM 2000 B is used in all areas of mechanics. It enables clean lubrication and conservation of moving parts, from simple plain bearings and chains to precision and fine mechanics. Thanks to the high penetration effect, parts that are difficult to access can also be optimally supplied (e.g. lock cylinders, counter mechanisms, hinges, joints, threads, pins, bolts).
CICO® TGM 2000 B is supplied in 5 l, 10 l and 25 l containers. Other container sizes on request.
Technical specifications
| Substance name | CICO® TGM 2000 B |
| --- | --- |
| Smell | mild |
| Physical state | liquid |
| Density (at 20°C) | 0.89 g/cm3 |
| Viscosity (at 40°C) | 35 mm2/s |
| Pour point | -52°C |
| Flashpoint | 250°C |
| Fire point | >350°C |
| Thermal decomposition | >350°C |
| Dangerous reactions | none |
| PBT and vPvB criteria (REACH regulation, Annex XIII) | non-persistent, non-bioaccumulative, non-toxic |
| Water hazard class (WGK) | 1 |
| Disposal (AVV) | 130206 |
| Transport | no dangerous goods |
| Storage stability | at least 2 years |