CICO® SM 1600 B
Universal Service and Assembly Paste | Copper-Free
Product benefits
highly effective service and assembly paste, copper- free
offers long-term protection against seizing and corrosion
high temperature resistant up to +1600°C
pressure resistant to 7,5 t/cm2
salt water and chemical resistant
creates optimal frictional resistance
causes more uniform pretension
suitable to be applied down to -40°C
environmentally friendly base liquid, non-toxic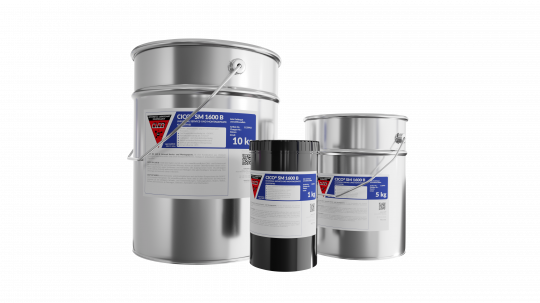 Description
CICO® SM 1600 B, universal service and assembly paste, is a combination of chemically treated solids in a solvent-free, biodegradable organic carrier.
CICO® SM 1600 B does not contain copper and is a very environmentally friendly sliding and lubricating agent with a wear- reducing and separating effect. Even a thin film offers a high level of long-term protection against seizing and corrosion. The extremely high compressive strength and the optimal frictional resistance offer a more even pretension. Disassembly is facilitated even after years.
CICO® SM 1600 B provides corrosion and wear protection even at high temperatures up to +1600°C and in corrosive atmospheres. The environmentally friendly paste is used in all areas of mechanics: in sliding bearings, screwed and fixed connections, guideways, bolts, pins, bushings and hinges, on fits, joints, gears and wire ropes, among others.
Application information
Even a thin lubricating film works optimally. CICO® SM 1600 B can be easily applied with a brush or spatula.
CICO® SM 1600 B is supplied in the following container sizes: 1 kg, 5 kg and 10 kg containers. Other container sizes on request.
Technical specifications
| Substance name | CICO® SM 1600 B |
| --- | --- |
| Color | gray |
| Density (at 20°C) | 1.15 g/cm3 |
| NLGI class (DIN 51818) | 2 (thixotropic) |
| Viscosity (at 40°C) | 120mm2/s (base oil) |
| Pressure resistance | 7,5 t/cm2 (Brugger method) |
| Temperature resistance | -180°C to 1600°C |
| Solubility in water | 0,2g/l |
| Flashpoint | >300°C |
| Ignition point | >350°C |
| Thermal decomposition | >350°C |
| Decomposition products | carbon monoxide |
| Dangerous reactions | none |
| Biodegradable (CEC-L-33-A-94) | >90% (base oil) |
| Water hazard class (WGK) | 1 |
| Disposal (AVV) | 130207 |
| Transport | no dangerous goods |
| Storage stability | at least 2 years |