CICO® SM 1200 MB
Rail Head Surface Treatment
Product benefits
eliminates squeaking in curves
prevents cracking and metal chipping
can be applied down to -40°C
high temperature resistant
water repellent, salt water and chemical resistant
environmentally friendly, no dangerous material
application either manually or with a suitable application system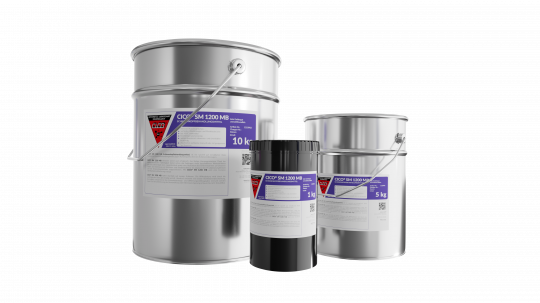 Description
CICO® SM 1200 MB, rail head surface treatment, is a metal-based solid treatment agent. It prevents squeaking in bends in rail curves.
CICO® SM 1200 MB immediately and successfully eliminates the annoying squeaking of curves. Thanks to its exceptional adhesion properties, even a very thin film on the rail head offers long-term protection and a reduction of rail noise and rail wear at critical points. It penetrates readily into small pores and crevices and forms a thin lubricating and protecting film. Due to the evenly spread film on the metal surface it does not bind dirt and other impurities.
CICO® SM 1200 MB also adheres to wet rails. The active substance is evenly distributed by the following wheels. This creates a thin surface coating, which needs to be renewed only according to the degree of curve load and environmental conditions. A deterioration of the braking efficiency is hardly or not at all noticeable.
Application information
When applying CICO® SM 1200 MB manually using a brush, the agent should be applied as thinly as possible in the curve area: starting at the beginning of the curve on both rail heads in strips of 10 cm length and 5 m apart.
CICO® SM 1200 MB can also be applied to the rail head using suitable high-pressure application systems. Such systems can be installed in rail vehicles or on special rail maintenance vehicles.
CICO® SM 1200 MB is environmentally friendly and not a hazardous material. The carrier is biodegradable.
CICO® SM 1200 MB is supplied in 1 kg, 5 kg and 10 kg containers. Other container sizes on request.
Technical specifications
| Substance name | CICO® SM 1200 MB |
| --- | --- |
| Color and shape | gray, paste |
| Boiling range | 290-340°C |
| Density (at 20°C) | 1.2 g/cm3 |
| Viscosity (at 40°C) | 45 mm2/s (base oil) |
| NLGI class | 2 |
| Solubility in water | 0.2 g/l |
| Flashpoint | 300°C |
| Ignition point | >450°C |
| Thermal decomposition | >350°C |
| Dangerous reactions | none |
| Biodegradable (CEC-L-33-A-94) | >90% (base oil) |
| Water hazard class (WGK) | 1 |
| Disposal (AVV) | 130207 |
| Transport | no dangerous goods |
| Storage stability | at least 2 years |