CICO® SM 1200 B
Universal Service and Assembly Paste
Product benefits
highly effective service and assembly paste
optimal lubrication
for static and moving components
long-term protection against seizure and corrosion
creates optimal frictional resistance
causes more uniform preload
pressure resistant to 7,5 t/cm2
temperature resistant -180°C to +1200°C
can be applied down to -40°C
salt water and chemical resistant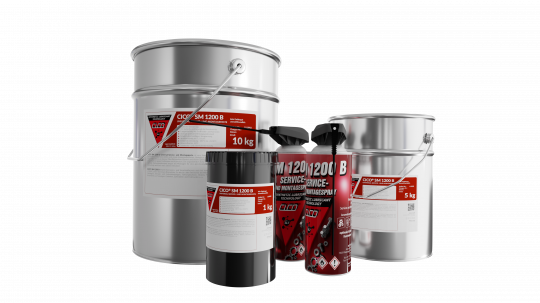 Description
CICO® SM 1200 B, universal service and assembly paste, is a combination of chemically treated solid lubricants and a solvent- free, biodegradable organic carrier. Even a thin surface film provides optimum separation and lubrication. It ensures a high level of long- term protection against seizure and corrosion. The unusually high compressive strength and optimum frictional resistance provide a more uniform preload. Disassembly is facilitated even after years.
CICO® SM 1200 B provides corrosion and wear protection even at high temperatures up to +1200°C and in highly corrosive atmospheres. It is used in all areas of mechanics: in sliding bearings, screwed and fixed connections, guideways, bolts, pins, bushings and hinges, on fits, joints, gears and wire ropes, among others.
Application information
CICO® SM 1200 B can simply be applied as a paste with a spatula or brush or, if necessary, diluted with CICO® Thinner K. CICO® SM 1200 B is also available as a spray for use in hard-to-reach areas. The spray can must be shaken before use due to the solid lubricants it contains. CICO® SM 1200 B is supplied in the following container sizes: 1 kg, 5 kg, 10 kg and CICO® SM 1200 B Spray (400 ml). Other container sizes on request.
Attention
The spray can is under pressure. It must be kept out of the hands of children and protected from heat and damage. Do not spray against naked flames or incandescent objects. Use only outdoors or in well- ventilated areas. Avoid inhalation of the aerosol and protect the eyes. Only dispose of when completely empty.
Technical specifications
| Substance name | CICO® SM 1200 B |
| --- | --- |
| Color | gray |
| Density (at 20°C) | 1.2 g/cm3 |
| NLGI class | 2 (thixotropic) |
| Viscosity (at 40°C) | 120mm2/s (base oil) |
| Pressure resistance | 7,5t/cm2 (Brugger method) |
| Temperature resistance | -180°C to 1200°C |
| Solubility in water (at 24°C) | 0,2g/l |
| Flashpoint | >300 °C |
| Ignition point | >350°C |
| Thermal decomposition | >370°C |
| Dangerous reactions | none |
| Biodegradable (CEC-L-33-A-94) | >90% (base oil) |
| Water hazard class (WGK) | 1 |
| Disposal (AVV) | 130207 |
| Transport | no dangerous goods |
| Storage stability | at least 2 years |
---
Substance name
CICO® SM 1200 B Spray
Form
aerosol, active ingredient: fluid
Color
gray
Smell
characteristic
Density (at 20°C)Bi
0,66 g/cm3, active ingredient: 0,88 g/ml
Ignition point
does not apply to aerosols
Solvent content, VOC (EU)
80%
Auto-ignition temperature
does not apply to aerosols
Explosive properties
not explosive,
Formation of explosive vapour/air mixtures is possible
Dangerous reactions
none
Solubilities
there is no information
Disposal (AVV)
150104 (metal packaging)
150110 (may contain residues of hazardous substances)
Transport
UN1950 (pressurized gas packages)
Storage stability
at least 2 years