CICO® RS 20 B
Rail Surface and Wheel Flange Treatment
Product benefits
no squeaking in curves
reduced wear on wheel and wheel flange
prevents cracking and metal chipping
good stability, high compressive strength
high surface adhesion, no spinning off
no gumming, does not bind dirt
low consumption
suitable to apply down to -40°C
temperature resistant from -100°C to +500°C
environmentally friendly, no dangerous material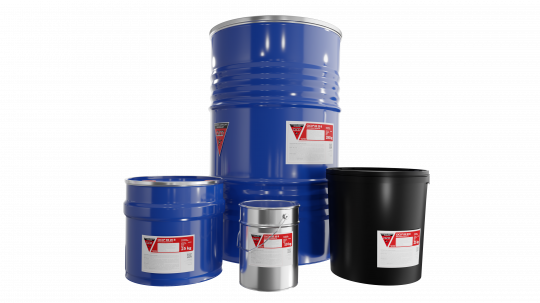 Description
CICO® RS 20 B, rail surface and wheel flange treatment, is a thixotropic product that is successfully used in the rail vehicle sector to reduce wear and noise, especially against curve squeal. It was developed for use in special lubrication equipment for both wheel and wheel flange lubrication.
CICO® RS 20 B is characterized by a high solids content and good stability. Even at low consumption, the strongly adhering dividing film ensures a dry and homogeneous surface coating. The dividing agent is effective even under extreme environmental conditions. Small existing cracks and metal chipping in the surfaces of the wheel and rail are eliminated and even surfaces are produced.
CICO® RS 20 B can be applied at temperatures down to -40°C. The effectiveness of the dividing film is maintained in the temperature range from -100°C to +500°C. A connection with rail abrasion and road dirt is avoided. Spinning off or damage to surrounding components is virtually eliminated, and material wear and cleaning effort are significantly reduced.
No negative impact on the braking effect with the appropriate dosage. The use of CICO® RS 20 B increases the safety and efficiency of vehicle operation. Curve squeal is eliminated and noise pollution is significantly reduced.
Application information
CICO® RS 20 B can be applied to the running wheels or to the rail head by means of suitable spraying systems. These systems can be installed both in rail vehicles and on special rail maintenance vehicles. Application by hand is also possible.
Since the influence on the braking behavior is essentially dependent on the type and quantity of dosing, we recommend carrying out your own tests under realistic conditions. We offer experienced guidance for this.
CICO® RS 20 B is supplied in 10 kg, 25 kg and 200 kg containers. Other container sizes on request.
Technical specifications
| Substance name | CICO® RS 20 B |
| --- | --- |
| Color | gray |
| Density (at 20°C) | 1.03 g/cm3 |
| Viscosity (Brookfield LVT; 1.5 rpm; 24°C; spindle no. 1) | 1150 mPa.s |
| Application temperature | -40°C to +90°C |
| Temperature range of lubrication | -100°C to +500°C |
| Flashpoint | 255°C |
| Kinematic viscosity (ISO 3104; at 24°C) | 317 mm2/s |
| Ignition point | >350°C |
| Thermal decomposition | >350°C |
| Dangerous reactions | none |
| Biodegradable (CEC-L-33-A-94) | >90% (base oil) |
| Water hazard class (WGK) | 1 |
| Disposal (AVV) | 130207 |
| Transport | no dangerous goods |
| Storage stability | at least 2 years |