CICO® H 3000
Biodegradable Synthetic Hydraulic Oil
Product benefits
stable multigrade hydraulic oil
effective in a wide temperature range (-60°C to +200°C)
high viscosity
high protection against corrosion and wear
no tendency to foam
separates water
does not attack seals and machine paints
is miscible with hydraulic oils based on mineral oil
mineral oil-free, biodegradable over 90% (base oil)
environmentally friendly, no dangerous goods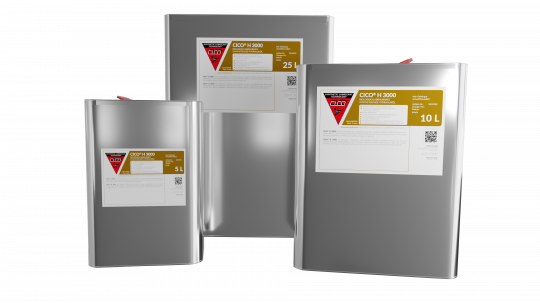 Description
CICO® H 3000 is a mineral oil-free, environmentally friendly and at the same time extremely stable multigrade hydraulic oil. It is used in hydraulic systems and hydrostatic drives of construction machinery, vehicles, machine tools, presses and other systems.
CICO® H 3000 is biodegradable and therefore less polluting than normal hydraulic oils based on mineral oil. The product is mainly used when there is a risk of hydraulic oil leaking into the ground or water.
Application information
When changing to CICO® H 3000, prior cleaning or rinsing is not necessary. However, simply refilling is not recommended (do not mix with other product).
CICO® H 3000 is available in the following container sizes: 5 l, 10 l and 25 l containers. Other container sizes on request.
Technical specifications
| Substance name | CICO® H 3000 |
| --- | --- |
| Smell | mild |
| Physical state | liquid |
| Density (at 20°C) | 0.9 g/cm3 |
| Viscosity (at 40°C) | 27 mm2/s |
| Pour point | -60°C |
| Flashpoint | 270°C |
| Fire point | >375°C |
| Thermal decomposition | >350°C |
| Dangerous reactions | none |
| Biodegradable (CEC-L-33-A-94) | >90% (base oil) |
| Water hazard class (WGK) | 1 |
| Disposal (AVV) | 130207 |
| Transport | no dangerous goods |
| Storage stability | at least 2 years |