CICO® AS 14
Anti-Seize Release Paste | Metal-Free
Product benefits
highly effective release paste for the assembly area
long-term protection against corrosion, seizing, fretting corrosion
can be used as a sealant
does not harden, maintains a stable consistency
high compressive strength and god frictional resistance
produces more uniform preload
temperature resistant from -100°C to +1600°C
environmentally friendly, no dangerous material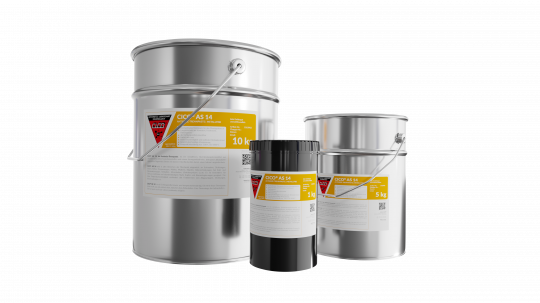 Description
CICO® AS 14, the anti-seize release paste, is a metal-free high- performance release agent. It contains chemically treated solids in a solvent-free, biodegradable, organic carrier. Even a thin surface film offers a high level of long-term protection.
CICO® AS 14 is used in all areas of mechanics: on screws, seals, bolts, pins, press fits, sleeves, nuts, plugs, pipe connections, for cold and hot forming, splined shafts, shear turning, centering injection and much more. It is particularly suitable for steel and stainless steel structures, copper and bronze alloys. The high temperature resistance prevents flue gas systems, seals, screw connections, etc. from sticking.
CICO® AS 14 is pressure and temperature resistant as a sealant. The anti-seize separating paste does not harden. The treated parts can easily be separated without any problems even years later.
Application information
CICO® AS 14 can be easily applied to previously degreased parts with a brush. CICO® Thinner K is recommended as an application aid.
CICO® AS 14 is available in the following container sizes: 1 kg, 5 kg and 10 kg containers. Other container sizes on request.
Technical specifications
| Substance name | CICO® AS 14 |
| --- | --- |
| NLGI class | 2 (thixotropic) |
| Viscosity (at 40°C) | 120 mm2/s (base oil) |
| Pressure resistance | 7,5 t/cm2 (Brugger method) |
| Solubility in water | 0,2 g/l |
| Flashpoint | 300°C |
| Ignition point | >350°C |
| Thermal decomposition | >370°C |
| Decomposition products | carbon monoxide |
| Dangerous reactions | none |
| Biodegradable (CEC-L-33-A-94) | >90% (base oil) |
| Water hazard class (WGK) | 1 |
| Disposal (AVV) | 130207 |
| Transport | no dangerous goods |
| Storage stability | at least 2 years |